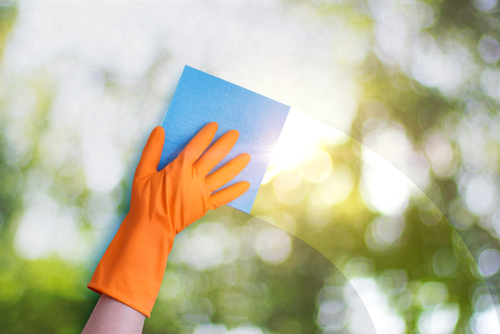 The pandemic is still a reality, and this spring, as more businesses and schools open, cleaning demands will increase even more than they already have. Your teams will be depended upon to do daily disinfecting, sanitizing, and general cleanings of floors, desks, door handles, bathrooms, and so much more. Be prepared for this spring cleaning by ensuring you are stocked with all the equipment and cleaning products you need.
1. Invest in Powerful Disinfectants
Your clients want to know you're using the most powerful and aggressive cleaners available to kill germs. One-step cleaners for hard, non-porous services are a must, as well as neutralizers that destroy antibiotic-resistant bacteria. Top-level and intermediate-level disinfectants and non-acid cleaners that minimize cross-contamination are a must for your supply.
2. Add to Your Fleet
Spring is one of the best times of year for professional cleaners to add to their fleet of cleaning machines. Whether you're in the market for an automatic scrubber, a truckmount, or otherwise, having additional machines that allow you to grow your business at such a busy time is a smart investment.
3. Service Your Equipment
Whether you have a ride-on floor scrubber or a walk-behind scrubber, make sure your machines work efficiently and as intended with regular tune-ups and preventive maintenance. You want all your equipment to be in peak condition so you're always ready to say "yes" to that next job and see it through from start to finish.
4. Prioritize Minor Repairs
You may want to avoid downtime and choose not to get minor but obvious repairs done to your vibrating truckmount or reduced pump pressure, but avoiding repairs is a recipe for disaster. If something isn't working right, get it fixed before it breaks in the middle of a job.
5. Get More Automatic Scrubber Supplies
You won't just be cleaning floors once a day anymore. Multiple passes during the day are now a must in many places of business, schools, medical facilities, and other organizations. You need to make sure you have an abundance of floor pads and floor chemicals to get every job done thoroughly and efficiently, over and over again.
6. Go Green
For the clients who prefer green cleaning supplies, it's important to have these products at the ready so you can fulfill their requests right away. Stock up on everything from biodegradable, phosphate-free, VOC-compliant foam shampoo to bio-based, ready-to-use cleaners that eliminate the need for mixing to green-based all-purpose cleaners.
7. Stock Up on PPE
Personal protective equipment has always been a must-have for professional cleaners. Now, more than ever, you need masks, gloves, smocks, sanitizer, and other products to ensure your employees stay covered up and safe during their work.
Get All Your Spring Cleaning Supplies from Michigan Maintenance Supply
Michigan Maintenance Supply offers name-brand and MMS-brand products and equipment that deliver outstanding performance at competitive prices, so you can always deliver the best service and products to your clients. Contact us at to discuss all our cleaning chemicals, scrubbers, equipment, and accessories, so you can have the inventory you need whenever you need it.