Service
For an appointment, call 586-757-5930.
When your cleaning equipment is down, MMS understands the importance of getting it repaired, and putting you back on the job.
Michigan Maintenance Supply delivers professional mechanical service for your commercial cleaning equipment is our highest priority. MMS doesn't compete with you by offering building and carpet cleaning services. When you bring your cleaning equipment to us we will provide you the best mechanical services available. Our shop technicians are trained and insured. Importantly, for your protection, we carry full garagekeeper's insurance.
If possible, we will service and repair your cleaning equipment while you wait. If needed, we have the facilities to safely store and protect your valuable investment.
MMS invites you to visit and inspect our showroom and garage facilities. We want to earn your service business.
Services Offered
Automatic scrubber repair
Belt replacement on slide-in and direct drive ( PTO ) cleaning equipment
Chemical injection systems diagnostics and service
Electrical system testing and repair
Fluid systems diagnostics and repair
Heater Cores for Prochem Truckmounts
High pressure cleaning pump repair
High pressure hose repair
Indoor, heated and secure, storage of vans and cube trucks while being serviced
Installation or pull-outs of used truck mounted equipment
Inspections of truck mounted cleaning equipment
Oil changes
Pressure washer repair
Preventive Maintenance service
Professionally trained mechanics
Same day service whenever possible
Scheduled maintenance and service
Timing belt replacement
Troubleshooting and diagnostics
Vacuum cleaner repair
Valve repair
Waiting areas where you can set up shop while service is being performed
Winterization of truck mounted cleaning equipment
Warranty service
Welding service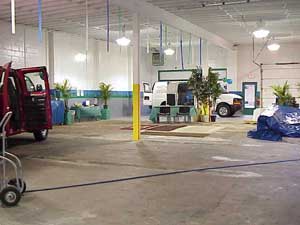 Authorized Dealer, Parts and Warranty Service
Briggs and Stratton Vanguard V-Twin engines
Castex carpet cleaning equipment
Century 400 truck mounts
Eagle propane burnishers
EBAC industrial dehumidifies
ITT Flojet pumps
Kohler Command 20 and 25 HP engines
Mastercraft floor care equipment
Mytee Products equipment
Nobles
NuSource floor care equipment
Pullman Holt
Prochem carpet cleaning equipment
Sanitaire vacuums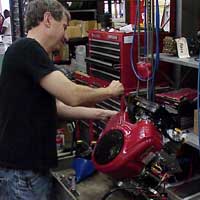 Repair, Parts and Service
CAM Sprayer
Cat Pump
Gardner Denver TriFlow and Sutorbilt vacuum pumps
General Pump Emperor pump
Hypro Pump
Kabota 31HP engine
Hyundai 69 HP engine
Spraying Systems spray nozzles and accessories
More Brands Serviced
Bane Clean, Blueline Equipment, Butler, Cleanco, Hydramaster, Hydro-Force, Karcher, Mercury, Pumptec, Redline Products, RL-Flo-Master, Steamway, Steamaction, White Magic, US Products, Vortex.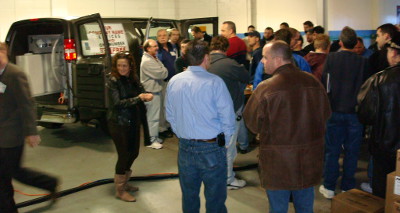 Training
Michigan Maintenance Supply regularly conducts workshops, training sessions, new product demonstrations, and customer appreciation days, featuring company representatives and often accompanied by special discounts and financing promotions. For details, call Mark at 586-757-5930.
---
Refine Search