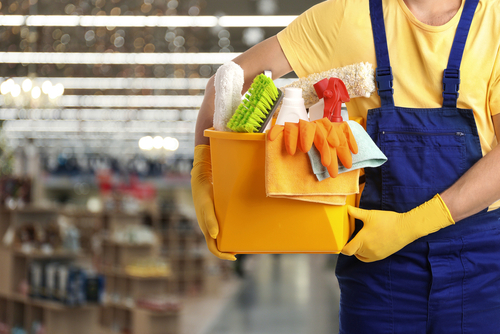 You know your professional cleaning services are exceptional. You know you use the most effective cleaning supplies available. You know you're reliable. If you want to expand your business and break into the retail market, there is no shortage of potential clients. Here are just some of the ways to promote your services to them.
If retailers outsource professional cleaning needs, they will have:
Happier employees: If employees are hired with the expectation that they will do light cleaning from time to time, then it's reasonable to expect this work from them. If they're hired for completely different retail obligations, the last thing any employer wants is to create a crew of disgruntled, resentful employees who, along with their regular tasks, are now being asked to clean. Professional cleaning services allow employees to focus on their tasks and keeps them happy.
Less employee turnover: Though the retail field is notorious for employee turnover, it isn't always that way. Employees who are hired to do a certain job and enjoy doing it day in and day out will be easier to retain. Outsourcing cleaning duties to professional cleaners makes employees far more likely to stick around because they know their skills are being used where they're needed most. Employees will also feel safer and cared for in their environment when it's cleaned regularly with powerful cleaning agents by dedicated pros.
Increased employee productivity: Let your clients know that your presence as pro cleaners in their retail space will only increase their employee productivity. Since you're doing the cleaning work, their team is always ready to do their own unique tasks while you and your team makes sure their workplace and public environment stays spotless and healthy.
Professional results: If retailers are assigning cleaning duties to employees, especially those who were not originally on board for such a task, the results will be spotty at best. In this almost-post-pandemic time, cleaning must be done a certain way to make store guests feel confident about patronizing a retail establishment. Professional cleaners know the advanced cleaning techniques, use green cleaning supplies as requested, are aware of necessary safety procedures, and use professional cleaning products, no training necessary.
No downtime: Retailers can schedule professional cleaners to come in and get their work done at any time, whether it's during business hours or after hours. No matter when it happens, a cleaner's work won't disrupt operations – and busy retailers will never be without a clean and germ-free space thanks to dedicated outsourced cleaners.
Outsource Retail Cleaning to Pro Cleaners
It's more important than ever for businesses of all kinds to keep their spaces clean and safe. Employees and customers alike need to feel comfortable wherever they are. When professional cleaners are responsible for every little cleaning task – from scouring floors to cleaning door handles – the work gets done right, efficiently, and with powerful cleaning products.
Stock up on your professional cleaning supplies and equipment through Michigan Maintenance Supply. Contact us today to learn more and start marketing your specialty to retailers and beyond.