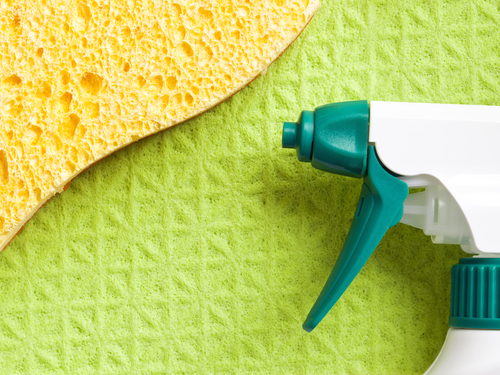 When you are in the professional cleaning business, certain times of the year are more demanding than others. Holidays, changing seasons, and extreme weather conditions definitely call for superior cleaning power. And when your clients want things to be clean in an environmentally friendly way, you need green cleaning supplies to satisfy their demands and deliver the top-quality services your company is known for providing.
Green Products to Clean Carpets and Furniture
Cleaning wall-to-wall carpeting and upholstery is a demanding job that requires a powerful, reliable truckmount and the right products to get the job done.
Biodegradable, phosphate-free, VOC compliant foam shampoo is a professional product ideal for carpeting and upholstery, whether you're in a private home or commercial environment. With a mild pH, this shampoo is safe for even stain-resistant nylon and wool carpets and the polymer technology won't leave a sticky residue.
For a great two-step cleaning combo for hot-water extraction cleaning, a pre-spray gets the job done.
Green Cleaning for Restrooms
Whether you've been hired to tackle the cleaning of public restrooms or whether the cleaning of several private restrooms are part of your job, it's a good idea to maintain an inventory of earth-friendly products that clean and sanitize.
Organic digesters and bio-based cleaning agents effectively remove hard water, urine deposits, and related odors for toilets, urinals, and even shower rooms. This green product is also good for maintaining free-flowing drains. A ready-to-use product eliminates the need for mixing, making the cleaning job more efficient with a targeted solution.
A handy spray natural acid spray is always important to have on tap for restroom cleaning. With the right configuration, you can remove soap scum, water spots, and light rust for pleasant-smelling and thoroughly scoured bathroom.
All-Purpose Environmentally Friendly Cleaners
The all-purpose green cleaning products are the go-to solutions for any professional cleaning operation. Designed to quickly penetrate, emulsify, and remove light to medium soils, your clients will think you're a little bit magic when you have just the cleaner to get rid of seemingly pesky stains and problem areas.
Solvents that are naturally derived from agricultural ingredients and include a combo of soybean and corn esters can also be used to replace hazardous, toxic products that are environmentally harmful. Your clients will feel better about their desks, file cabinets, door handles, tabletops, and more when you assure them you're using a safer solvent alternative to petroleum-based solvents.
Eco-Conscious Floor Cleaners
When it's time to deep-clean and strip floor finishes, the right floor finish remover is a low-odor remover that is fast-acting and low-VOC. Ideal for high-traffic facilities and confined areas, especially hospitals, stores, schools, administrative offices, and public buildings, there is no need to schedule this kind of cleaning in the off-hours because of harsh fumes or chemicals.
Get Green Cleaning Products from Michigan Maintenance
Stock up on the green cleaning supplies that are right for your professional cleaning company. Contact Michigan Maintenance Supply to discuss your needs and place an order. And don't forget your personal protective equipment while you're at it!