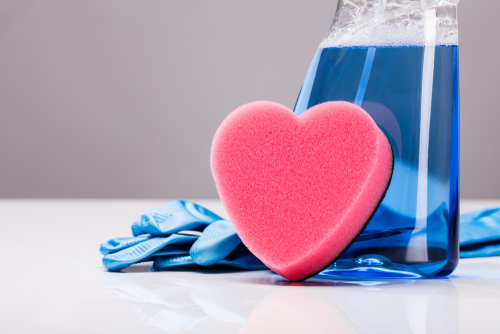 Everyone finds products they love and sticks with them. It's good to be a dedicated consumer when you know that the item you're using or working with will always deliver reliable results. Professional cleaners are no different. When they find a product that gets the job done, whether they're servicing offices, hospitals, schools, or beyond, they keep the love affair going for as long as manufacturers deign to produce the items.
1. Carpet Stain Treatment
Carpet cleaners are always staring down carpet stains, and these pesky spots need to be treated with a carpet spotting solution to be properly addressed. Hydrogen-peroxide-based Contempo spotting solution is a ready-to-use solution that neutralizes stains without damaging carpet fibers.
2. One-Step Disinfectant
Hard, non-porous surfaces are coated with unseen germs and grime that need to be destroyed and removed thoroughly for total sanitation. A one-step cleaner like PSQ 2 is advertised as a chemical that can fight against flu and Covid, along with HDQ Neutral which destroys antibiotic-resistant bacteria.
3. Hospital Grade Cleaner
When you want the toughest, finest cleanser, just like what hospitals use, Halt can deliver. This hospital-grade chemical is a bacteriacidal, virucidal, mildewcidal, and fungicidal disinfectant. Even if you're not going anywhere near hospitals or medical buildings with your cleaning efforts, this professional cleaning supply can help make your clients feel better when you explain its power and effectiveness.
4. Carpet Pre-Treater
Have some heavy soils to tackle, or maybe just the wear and tear caused by everyday use? A concentrated carpet cleaner like Ultrapec Pre-Treat can manage both and everything in between, from oil to grease to dirt. There is no resoiling residue left behind and no sign of harsh degreaser or high-pH cleanser.
5. Traffic Lane Cleaner
Anyone who's dealing with high-traffic areas require some serious cleaning products to get up stains, soils, and dirt. Chemspec is designed as a heavy-duty traffic lane cleaner. It detaches soils from carpets, no matter how many times they've been walked over, often even stains that you never thought could come loose from those carpet fibers.
6. Eco-Friendly Foam Shampoo
Axiom clean foam shampoo is a biodegradable, phosphate-free, VOC-compliant foam shampoo that works on water-cleanable upholstery, as well as wool and synthetic carpets. Whether a private home or commercial environment, mild pH means this shampoo is safe for all carpets and its polymer technology will not leave any sticky residues that can often stay behind and reattract soil.
7. Green Cleaning Supplies
Let your clients know that you have the professional cleaning supplies that minimize allergens and do not add to indoor air pollution. This is important anytime of year, but especially during cold and flu season. Any environment cleansed with the likes of a natural all-purpose solution for soils or natural acid spray for soap scum and water sports is a healthier environment.
Get the Professional Cleaning Supplies You Love from Michigan Maintenance Supply
Whoever your clientele, whatever your cleaning needs, Michigan Maintenance Supply has the professional cleaning products for your arsenal so you're ready to satisfy the requests of all your customers. Give them an eco-friendly clean, deep cleans, thoroughly refreshed carpets, and more. Contact us to find out about how to buy in bulk supply and get suggestions about the best equipment to accompany these proven products.