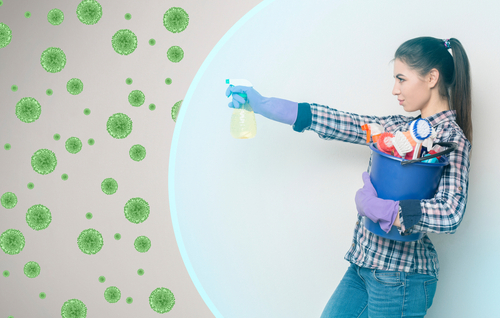 Cleaning is more frequent and necessary during cold and flu season, and the fear of a fresh wave of COVID-19 emerging simultaneously is also present. Don't be caught without the necessary professional cleaning supplies and equipment. Show your clients that you're prepared for every possibility and ready to attack any surface with powerful cleaning agents. Your conscientiousness and hard work helps your clients feel safer and healthier. Stock up and stay ready until the spring thaw arrives.
Invest in Powerful Disinfectants
Feel confident reassuring your clients that you are using the most powerful disinfectants available. Many of the following products are promoted as killers of the human coronavirus as well as cold and flu germs.
Other tough cleansers that can be used on multiple surfaces and that are known for attacking germs and grime include NABC, DMQ, X Effect, CDC-10, Foamy Q and A, and Sani-T-10 Plus.
Stock Up on Green Cleaning Supplies
There are always clients who prefer the more Earth-friendly cleaning supplies and it's essential to have these available. During cold and flu season it's especially great to have these as an option because their composition minimizes allergens and doesn't add to indoor air pollution, making any environment cleansed with these products a healthier environment in general.
Biodegradable, phosphate-free, VOC-compliant foam shampoo.
Organic digesters and bio-based cleaning agents that remove hard water, urine deposits, and odors.
Natural acid spray for soap scum, water spots, and light rust.
All-purpose solutions for light to medium soils.
Boost Personal Protective Equipment
It's important to ready for all your clients' needs and demands, but it's also important to be ready for your own teams' needs. Your employees put their own well-being at risk daily by cleaning the spaces of other people, many full of health threats and dangerous bacteria.
Protect your people by stocking up on personal protective equipment, purchased in bulk, including face masks, gloves, hand sanitizers, shoe covers and more. You're safeguarding your employees against t he contraction of germs as well as the transmission of them.
Get Professional Cleaning Equipment Serviced
Is all your cleaning equipment working properly? Has it been serviced recently? Are the brushes, scrubbers, hoses, sprayers, and other accessories working properly? Now is the time to make sure your equipment is ready.
Truckmount: Schedule a tune-up to make sure everything is operating as it should, or consider adding another truckmount to your fleet to improve your offerings to clients.
Vacuum cleaner: There is always one vacuum cleaner that works best for the kind of work you do. From backpack vacuums to upright vacuums to canister vacuums, there is an efficient, cost-effective option that will work for your jobs. Make sure all the parts are in find working order.
Automatic scrubber: Whether you operate a ride-on automatic scrubber or a walk behind version, daily use of this equipment calls for regular maintenance and check-ups.
Be Ready for Cold and Flu Season
There is no avoiding cold and flu season, and thank goodness cleaning services like yours are available to help clients get the level of clean they want in their offices, businesses, and homes. Make sure your professional cleaning supplies and equipment are ready to go. Schedule a preventive maintenance appointment or contact Michigan Maintenance Supply to place an order.