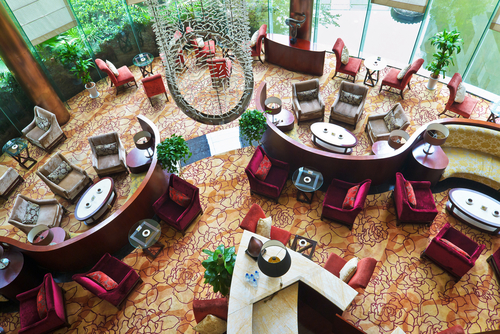 When you are the trusted carpet cleaning professional for commercial clients that have halls and rooms and lobbies filled with carpet, wintertime is an especially critical time of year. Commercial carpets need to be cleaned more often than a residential customer's wall-to-wall carpeting, but winter makes this job even more essential. Here are winter carpet care tips to follow so your professional cleaning company remains your customers' go-to resource for everything underfoot.
Prepare for Increased Traffic
Depending on the business your client is in – hotels, offices, retail stores, or otherwise – this time of year sees an uptick in foot traffic. In Michigan, this means plenty of snow, ice, muck, and yuck. The carpets in any commercial space are at risk of damage and permanent stains if they're not properly protected.
Your cleaning company's presence and know-how can reassure every client that their property will continue to look clean and impeccable all through the year thanks to key cleaning supplies like:
Some of your treatments can be done by hand for the toughest stains and carpet problems, but most of your powerful cleaning solutions can be used with your powerful truck mount carpet cleaning system.
Deliver Meticulous Daily Care
There are many types of vacuums, and certain carpet cleaning companies need more than just their truckmount at the ready to manage their clients' space and vacuuming needs. Regular vacuuming is even more important in the winter to minimize the build-up of dust, dirt, and other debris. But what kind of vacuum is best?
Backpack vacuum: If you're dealing with entry vestibules, low-pile carpet, and small areas, a backpack vacuum can make getting the job done both easy and efficient.
Upright vacuum: High-pile carpet or walk-off mats require a little more oomph in the shape of an upright vacuum, ideally one with QuietClean technology.
Wide area vacuum: When you have major square footage to tend to, a wide area vacuum gets the job done and massively reduces cleaning time.
Leave Carpet Care Tips Behind
If you can't be on your client's premises every day, you can encourage clients to invest in walk-off mats to protect carpeting from snow and wet weather. Strategically placing these mats inside and outside all major entries and exits will prevent the need for major stain removal work later.
You'll be a beloved professional cleaning resource for your clients if you can offer quick fixes for them to make good use of when you're not there, like how to address and neutralize stains like ice melt or gum or wine before they become intractable. Even though you're on track to see a client once a week or twice a month, accidents happen. Arming your clients with the tools to manage problems until you can get there is key to building a good business relationship.
Get all the equipment, supplies, and suggestions you need for all your clients from Michigan Maintenance Supply.