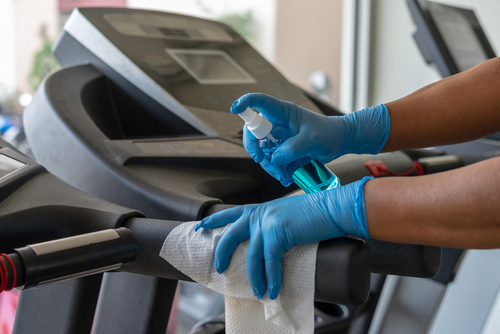 Gyms are where people sweat and breathe heavily. Keeping equipment, floors, locker rooms, and all surfaces clean during operating hours has always been a necessity, even more so through COVID. If you are ready to expand your clientele, if you're trying to figure out the best way to market your cleaning services to gyms and fitness centers, consider the following.
No one else cleans half as well as you do.
You're the expert, the professional cleaner, the person with the supplies and knowledge and experience to get every nook and cranny spotless. Do gyms have people on staff who can rotate cleaning duties and wipe down equipment? Sure, they do. But it's almost guaranteed that the job they do will not be thorough enough. The presence of a professional cleaning company at a gym shows the visitors to that gym that the management takes health and cleanliness seriously.
You have the most powerful cleaning supplies.
Today's consumers not only want to be told that things are clean, but that they have been cleaned a lot, with high-grade cleaning supplies, that the work has been done exceptionally well. Only a professional cleaner can offer that kind of guarantee. With your all-purpose cleaners and powerful disinfectants, you hit the hot spots, the common areas, and every machine and bench with every rotation to keep gym users safe.
It's your job to create effective cleaning programs.
It's your job to make recommendations to clients about what kind of cleaning schedule would be most beneficial to their circumstances. A gym will also tell you what their unique needs are and how their place of business operates so together you can work out a routine cleaning plan for the entire facility and especially the cleaning equipment. You can even document when an item has been cleaned and when it is next due for a wipe-down.
It's financially practical for gyms to hire a cleaning professional.
Cleaning is a full-time job, especially in a gym that has long hours and plenty of visitors. It often makes financial and practical sense to hire a professional cleaning service for at least a portion of their cleaning needs, if not all of them. Regular deep cleanings and daily cleanings of touch points and all surfaces is a big difference when compared with in-house, maybe-once-a-day cleanings that happen with gym employees, like front desk workers or personal trainers pulling double duty. Hiring a professional cleaner is a cost-effective solution and incredible peace of mind.
Get in the Gym in a Different Way
Your cleaning supplies, solutions, and equipment are not one-size-fits-all and neither are your clients. Make sure your potential clients realize just how versatile your cleaning business is and how you can serve their needs with the professional experience, products, and machines you have.
Save fitness centers the cost and time of training employees to clean or even having to maintain an ongoing room of cleaning supplies. Be their go-to professional cleaning service for all their daily and deep cleaning efforts. Those treadmills and free weights aren't going to clean themselves.
Need suggestions for the right cleaning products for the right client? Contact Michigan Maintenance Supply to get recommendations and stock up on what's right for your crew.