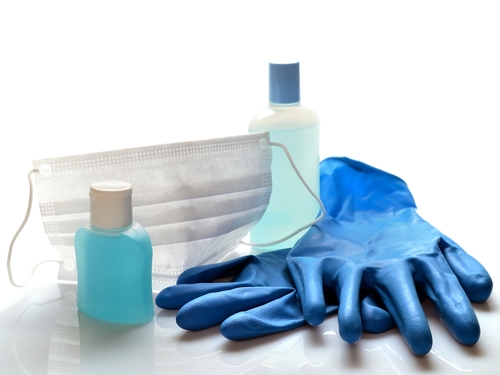 Michigan Maintenance Supply has everything you need when it comes to personal protective equipment (PPE). Whether you are a solo cleaner, running a janitorial business, or making bulk purchases to donate to a cause, we have the PPE to keep you covered and safe during the coronavirus outbreak.
Stay Covered During COVID-19 with Personal Protective Equipment
Personal protective equipment includes:
Face masks: They may be in short supply everywhere else, but MMS has face masks to ward against the spread of germs or the transmission of them.
Gloves: Anyone in the janitorial field simply cannot work without gloves in today's coronavirus climate. Buying gloves in bulk is the only way to go.
Shoe covers: Whether you're entering hospitals, private homes, places of business, or otherwise, shoe covers protect you and others around you from whatever could be lingering on your shoes.
Hand sanitizer: When soap and water are not available, hand sanitizer gets the job done. The cleaning industry requires ongoing cleaning of your own hands and gloves.
Antiseptic hand soap: This powerful hand soap guards against viruses and harmful bacteria.
Order Personal Protective Equipment
To place an order with Michigan Maintenance Supply, use any of the following methods:
Call 586-757-5930
Fax 586-754-0743
How to Pay for Your PPE
One thing many people have encountered in their efforts to buy PPE is price gouging. MMS's prices have not changed – in fact, many of our products are on sale, as always.
Payment can be made using:
Cash
Credit (MasterCard, Visa, Discover, American Express)
MMS account
Orders can be prepaid and ready for a hands-free curbside pick-up. Orders over $200 qualify for free delivery in the Detroit Metro area.
Supplement PPE with Disinfectants and Sanitizers
Just as important as personal protective equipment are the cleaning products used to kill the coronavirus and sanitize surfaces. We now have a variety of materials in stock so you can truly clean surfaces and reassure clients of your careful efforts.
Disinfectants that claim to kill human coronavirus
Cleaning disinfectants
Sanitizer
As always, MMS maintains extensive stock in cleaners, janitorial products and equipment, carpet-cleaning products, and basic cleaners you've come to rely upon. Put together a complete order of PPE, disinfectants and sanitizers, and whatever other supplies you need to replenish for a thorough inventory in your business.
Get Your Personal Protective Equipment Today
No matter your need for PPE supplies and cleaning products, you shouldn't have to physically go shopping to protect yourself and your employees. Michigan Maintenance Supply is making this as easy as possible for you. Contact us today to discuss your PPE and cleaning needs.