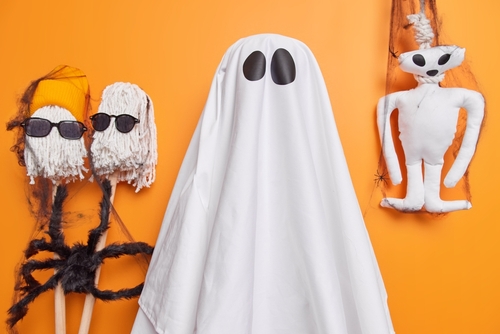 It might be a spooky time of year, but that doesn't mean your cleaning equipment should be giving you problems. Quite often, any difficulties you're having with your truckmount, automatic scrubber, or other professional equipment can be fixed with a few small adjustments or changes to your daily routine. Troubleshoot your equipment and see if you can't flush out the ghosts that are haunting you – if not, professional maintenance is always available from Michigan Maintenance Supply.
Possessed by Your Automatic Scrubber
If your automatic scrubber seems to be possessed and isn't doing the work it should, there could be multiple issues going on:
Not putting down water: Feel like you're cleaning a dry floor? Make sure there is water in the solution tank and check for obstructions. Water filters may have buildup or the batteries for the pump may be on the fritz.
Not picking up water: When the liquid you put down just won't come back up again, the vacuum pickup hose could have detached from the squeegee or recovery water tank, or it may have holes or air leaks. The squeegee itself may be worn, torn, have dirty blades, or the assembly is not level. The hoses or debris trays could also be clogged.
Not cleaning properly at all: If you're doing the important job of cleaning out your automatic scrubber every day and still getting a mediocre performance from your machine, there may be problems with the accessories you're using for the machine. It's essential to get the correct cleaning chemicals for the scrubber as well as the appropriate pads, brushes, and squeegees, and make sure that these elements are all properly maintained.
Ghosted by Your Truckmount
Has your truckmount stopped showing up for each job? Does it fail to produce the kind of quality carpet cleaning you promise to your customers? Make sure all the boxes are checked so performance is top-notch every time:
Top off fluids (engine oil, blower oil, solution pump oil, etc.)
Lubricate vacuum blower
Flush the vacuum recovery tank and auto pump-out system
Clean the vacuum tank drain, filter, and lint basket
Allow tank and filters to air dry
Rinse truckmount wands and remove hair and lint from brushes
Wipe down the entire truckmount
Inspect your machine for odd sounds
Replenish chemicals
Follow manufacturer's instructions
Keeping your machines clean and well-maintained ensures that you are a prepared professional for every job. Following a daily maintenance routine means that your equipment won't surprise you or conk out in the middle of a job, you'll be more productive, and you will make the most of your significant investment.
Haunted by Equipment Troubles
If you have done all the troubleshooting you can on your own and still not exorcised the spooky problems that your truckmount, automatic scrubber, or other equipment is dishing up, it's time to talk to the experts. Regular maintenance is necessary for all professional cleaning equipment.
Schedule a preventive maintenance appointment to avoid downtime on the job. Contact Michigan Maintenance Supply for help getting through all the tricks this season.