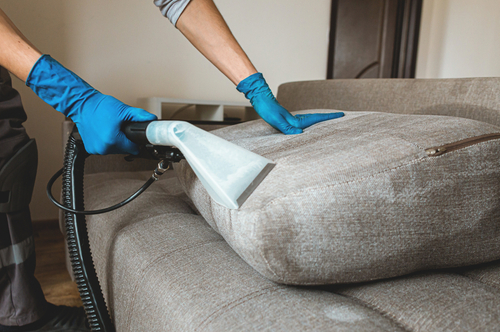 Professional carpet cleaning is a specialized business, but there are plenty of requests that come in from customers beyond tending to their carpeting. Being able to fulfill your customers' needs simplifies their lives and boosts your reputation as a reliable, diverse operation. A versatile slide-in truckmount prepares you for unexpected cleaning requests from homeowners and businessowners – and lets you tackle them easily on the spot.
A Slide-In Truckmount: The Comprehensive Cleaner
It doesn't hurt to focus on one area of cleaning so you can become an expert in your field. But it's also a good idea to develop a well-rounded, multi-functional operation that can be flexible and offer a small menu of valuable services to your customers.
A slide-in truckmount is a comprehensive piece of multipurpose cleaning equipment that lets you do the following:
Carpet cleaning
Upholstery cleaning
Tile cleaning
Duct cleaning
Power washing
Water extraction
Benefits of a Slide-In Truckmount
A multifaceted slide-in truckmount can do many different jobs, and every advantage of a built-in truckmount means greater opportunities for profits and more taglines for marketing purposes, especially when you stick to daily upkeep for your machine that keeps it operating flawlessly. The more versatile your equipment, the more you can do, and the more you can boast about it – it's as simple as that.
The exceptional performance of a high caliber truckmount offers quality heat extraction, pressure, vacuum, noise reduction, and fuel savings. You can handle any aspect of your clients' cleaning needs, and all the while reap the benefits of a low-cost, low-maintenance piece of equipment that helps your business thrive.
How to Choose the Best Slide-In Truckmount
Once you've determined that you want to be a multifaceted operation, the question is: What truckmount is best? When you are considering models, keep in mind that the right slide-in truckmount should offer you all the following benefits:
Fits with an existing work truck or van
Is available as a truckmount and van combo
Operates independently of your work vehicle's engine
Can serve both residential and commercial clients
A proven cleaning equipment brand that has an established global presence
Offers reduced operating costs thanks to included engine, fuel savings, strong performance, and more
Offers significant cost-savings over the course of several years
Supportive Service for Your Truckmount
Of course, any slide-in truckmount is only as good as the regular maintenance it receives. When you purchase your truckmount from Michigan Maintenance Supply, you are on the receiving end of reliable parts and service throughout the life of your equipment.
Self-contained carpet cleaning Prochem truckmounts are our specialty and we stand above our competitors with our professional installation, on-site testing, team of full-time technicians, and exceptional cleaning supplies that help you get your jobs done.
If you are ready to invest in a new van and truckmount combo, upgrade your existing truckmount, or purchase your first slide-in truckmount, contact Michigan Maintenance Supply to get cost-effective recommendations for your carpet cleaning business.