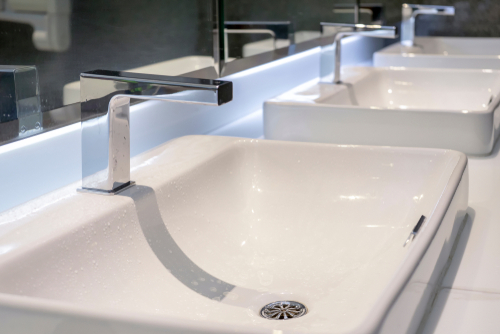 One of the most frequented areas in any commercial or business space are the restrooms. Customer and employee satisfaction revolve around the cleanliness of restrooms, which many people use as a gauge for how well the rest of a business is run while also influencing overall image. Keeping these areas clean and sanitary often falls to professional cleaning services hired to maintain the premises daily. Satisfy your clients by using these recommended professional restroom cleaning products.
Disinfectants
Since bathrooms are home to plenty of germs on the regular, let alone during a pandemic, disinfectants and sanitizers are more important than ever. Reassure your clients – whether you're cleaning healthcare environments, schools, or commercial environments – that you're using the most powerful cleaners out there by making good use of:
All-Purpose Cleaner
Cleaning all surfaces repeatedly is the key to superior restroom cleanliness. Doors and door handles, light switches, toilet handles, faucets, paper towel holders, soap bottles, toilet seats, urinals, sinks, countertops, walls, partitions, and more are all used by a steady stream of bathroom visitors. A green all-purpose solution covers those quick wipe-downs and scheduled restroom checks in between deep cleanings.
Paper Supplies
You always want to have bath tissues, paper towels, and dispensers available should your client be short on their own supplies. These paper products are indispensable in office and commercial restrooms and, especially when people are using extra paper towels to touch surfaces and open doors, are needed more than ever.
Eco-Friendly Products
Satisfy the clients who prefer the most earth-friendly professional cleaning supplies by stocking your cleaning carts with organic digesters and bio-based cleaning agents that remove hard water, urine deposits, and odors, as well as natural acid spray for soap scum, water spots, and light rust.
Floor Cleaners
Don't overlook the restroom floors that everyone walks all over and drips, well, who knows what on. An automatic floor scrubber paired with professional cleaning chemicals formulated as heavy-duty floor cleaners makes this an easy and fast task. Sure-Pass heavy-duty traffic spotter and traffic lane cleaner can clean the uncleanable. Made from a concentrated blend of water-soluble solvents, powerful detergents, and soil-splitting surfectants, this is a must-have for any professional cleaner, especially for bathroom floors.
Get the Restroom Cleaners You Need
At Michigan Maintenance Supply, we make it easy for you to find all the commercial restroom cleaning supplies you need to keep your clients' restrooms clean, fresh, and disinfected at all times. From bowl cleaners to urinal screens to ready-to-use spray-and-wipe products, we have the products you need in convenient quantities.
Contact Michigan Maintenance Supply for recommendations or to place an order to stock up for fall.