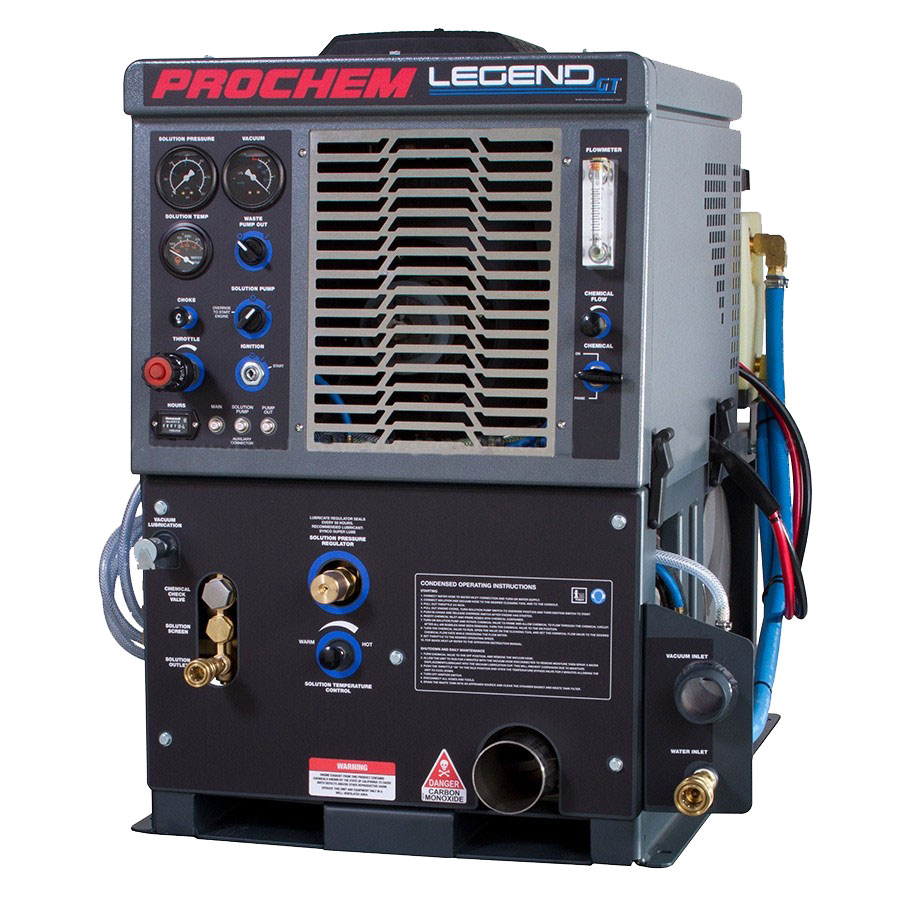 Preventive maintenance can feel like downtime but, in reality, it is downtime prevention – significant downtime prevention. Making and keeping regular appointments to have expert eyes on your professional cleaning equipment – especially your truckmounts – helps ensure that every job you're hired for goes smoothly and is completed without any breakdowns or problems along the way.
What to Expect from Truckmount Preventive Maintenance
Daily inspections of filters and fluid levels are a necessity with it comes to hardworking truckmounts, and you can do this work on your own, but this solo effort isn't enough to keep your machine going for the long haul. Regular carpet cleaning truckmount maintenance and service are vital to the life of your truckmount so you can avoid costly downtime and preventable repairs.
Preventive maintenance from Michigan Maintenance Supply includes an oil change and multipoint inspection that is a deep dive into your machine. We will check:
Fluid levels: engine oil, battery fluid, vacuum blower oil, high pressure pump oil
Hoses and belts: fan belt, fuel hose and connections, vacuum blower belt, water supply hose, high pressure hoses
Systems: coolant, heating, chemical delivery, air cleaner
Filters: waste tank, heating system, pump seals and valves
Performance: wand spray, wand vacuum
Condition: fuel pump, battery terminal, water supply inlet strainer, vacuum blower
You may receive a recommendation to replace the timing belt. Prochem truckmounts in particular should receive this upgrade every two years or 2,000 hours. If there is a component that is near its life expectancy, it's better to find that out when your truckmount is in the shop for a tune-up than in the middle of a job.
Additional Truckmount Services
When you work with your truckmount day in and day out, you understand your equipment. If you're conducting your daily inspections and keeping a log of when to service your machines, then it should be easy to recognize when something isn't right. Schedule an appointment at Michigan Maintenance Supply and you can enjoy the following perks:
Troubleshooting and diagnostics, including fluid systems diagnostics and repair
Same-day service whenever possible
Waiting areas where you can set up shop while service is being performed
Indoor, heated, secure storage of vans during servicing and overnight
Whether you need a new heater core for your Prochem truckmount, installation or pull-outs of used truckmounted equipment, inspections of truckmounts, or scheduled maintenance and service, we have you covered.
Schedule a Maintenance Appointment
Save yourself the task of rescheduling appointments and managing disgruntled clients by making routine maintenance a deliberate part of your schedule. Keep your professional cleaning equipment in good shape and you will always be ready to manage every task that comes your way.
Contact Michigan Maintenance Supply to discuss your equipment needs and schedule a regular service or troubleshooting appointment for your truckmount, automatic scrubber, or other commercial cleaning equipment. We understand the importance of getting the work done efficiently so you can get back on the job quickly. Our shop technicians are trained and insured and we carry full garagekeeper's insurance so you don't have to worry about your equipment when it's out of your hands.