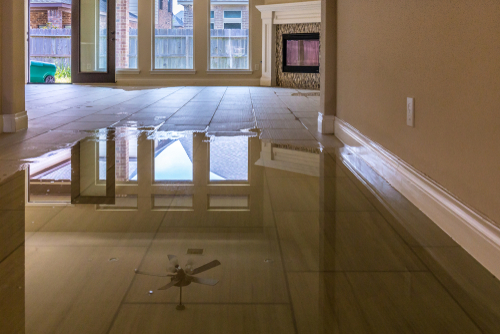 Whether you have been called to a flood cleanup job after a major storm or a burst pipe, it's your job to ensure that your client's home is carefully and thoroughly managed in the aftermath. When you are following water damage restoration best practices, your efforts will include drying equipment and a lot of hard work, but also a great attention to detail and restoration.
Safety Check
Is the home or building you are about to enter structurally secure? Water damage is a major threat to a home's stability, from floor to ceiling, foundation to support beams. No water damage restoration team will enter a building that poses a risk to their safety. They will assess electrical threats, standing water, and potential gas or sewer leaks. Contaminated water still needs to be cleaned up, but the nature of the problem and damage will determine how the restoration proceeds and whether it is yet time for the water removal and drying part of the process.
Remove or Relocate Items
Depending on the circumstances surrounding the flood, whether the water has receded, and how much water there is, the water restoration team may need to remove or relocate items to allow for thorough clean-up and to prevent further damage. This often includes furniture, throw rugs or area rugs, and other loose items. Some possessions will need to be cleaned separately to prevent water damage and mold growth and be thoroughly dried out before being relocated.
Extract Water
After the necessary prep work has been executed, the real expertise of the flood damage restoration specialists comes into play. Water extraction takes great knowledge of water damage, fabrics, materials, and equipment to adequately remove moisture from all affected areas.
Professional water damage remediation companies use commercial-grade equipment and drying equipment that can be employed in all seasons to deliver a thorough clean-up and repair. Dehumidifiers squeeze moisture from the air in a one-step or two-step air cooling process. Air movers do just as their name says, blowing air where it's needed, whether in large areas or crawl spaces.
Restoration may require the opening of windows, running of fans, and increase of ventilation around your house to keep the humidity level low and accelerate the drying process. Drying out the flooded areas, including everything from furniture cushions to drywall to carpeting to carpet padding, makes it possible for the homeowner to have their possessions and property cleaned, sanitized, and restored to avoid the growth of mold, infection, or disease.
Dri-Eaz Water Restoration Equipment
There are many types of drying equipment available for water remediation specialists. There is nothing like the Dri-Eaz equipment though, available in all shapes, sizes, and weights to accommodate a variety of spaces and jobs. Combining the power of dehumidifiers and air movers creates an optimal environment for fast remediation.
Learn more about the Dri-Eaz drying equipment combo that is right for your water damage restoration work. Contact Michigan Maintenance Supply today.