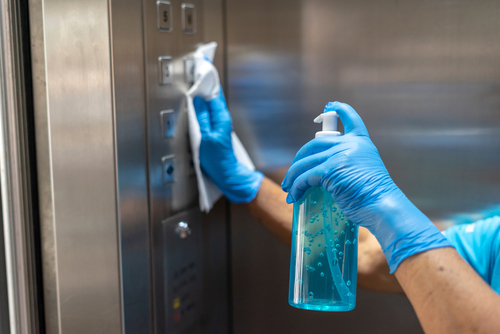 Cleaning supplies are always in demand for professional cleaners and janitorial crews. Now, more than ever, you cannot run short on critical disinfectants or personal protective equipment for yourself and your employees. As we continue to wade through COVID-19, as businesses begin to open and people emerge from their homes, you need a reliable source of cleaning disinfectants and PPE at the ready.
Stock Up on Powerful Disinfectants
Cleaning has always been a critical job. Now it's more important than ever so help prevent the spreading of germs. Your go-to cleaning disinfectants should have ingredients powerful enough to fight COVID-19, so you can truly do a thorough job and reassure your clients that you're thoroughly disinfecting every surface at every turn.
Products like PSQ 2, HDQ Neutral, Halt, and TB Cide are promoted as killers of the human coronavirus. Other available professional cleaning disinfectants and sanitizers like NABC, DMQ, X Effect, CDC-10, Foamy Q and A, and Sani-T-10 Plus are quality janitorial products that deliver when it comes to basic cleaning needs.
Never Run Out of Masks and Gloves
Buying in bulk is a best practice for cleaners. Not only do you want to ensure that you never run out of your cleaning supplies so you never experience unplanned downtime between jobs, you want to always make sure that you have the proper protective equipment to keep your workers safe while they venture into different environments.
PPE is a must-have in the COVID-19 environment and your employees need to be protected as they do their hard work. From face masks to gloves to shoe covers, their bodies will be covered properly so they can feel comfortable and confident cleaning any type of surface. Be sure to have hand sanitizer and antiseptic hand soap at the ready too that can be used on both gloved hands and skin.
Whether you are stocking up on disinfectants, sanitizers, masks and gloves, carpet cleaning products, or paper products, place a bigger order than you think you will need to keep each of your employees well-stocked.
Get the Cleaning Supplies and PPE You Need from Michigan Maintenance Supply
Whether you are cleaning homes or offices, warehouses or schools, medical buildings or retail stores, you need a reliable supplier of cleaning equipment to keep you stocked. Michigan Maintenance Supply has disinfectants, sanitizers, wipes, and personal protective equipment in stock and ready for you. Our pricing remains the same, no increases, and our supplies are as affordable as ever and ready for our Detroit Metro area customers.
We want to make your acquisition of supplies as easy as possible. Contact us today to place your order for professional cleaning disinfectants, PPE, and more. Call 586-757-5930 and pay over the phone for a hands-free, curbside pick-up. Orders over $200 qualify for free delivery in the Detroit Metro area.