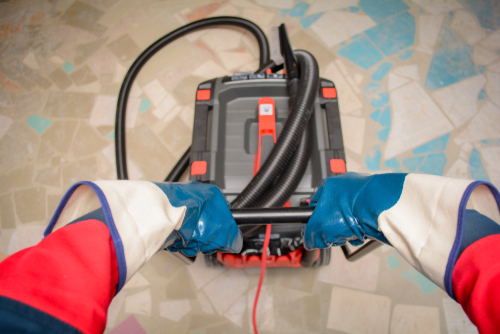 You know the importance of having the correct industrial vacuum cleaner for the job. Power, access, and utility are non-negotiables. You undoubtedly spent a lot of time determining which brand and model vacuum to purchase, but if it has stopped working, replacement isn't a given. You can get the repairs you need at a fraction of the price from industrial vacuum cleaner experts – and you might be surprised just how many parts can be serviced or replaced at your Michigan vacuum repair center to make your machine work like new again.
Types of Vacuums That Can Be Repaired
If you're working with any of these models, they can often be repaired by a qualified vacuum repair center, saving you time and money.
Upright vacuum: Upright vacuum cleaners are convenient, reliable, and easy to use, often available with helpful attachments for carpet, bare floor, and above-floor cleaning.
Backpack vacuum: These versatile machines do the hard work of getting into the hard-to-reach places, whether operating on carpet or hard floor.
Commercial vacuum: Commercial vacuums are compact and strong, with perks like a telescopic wand and a full set of tools to reach difficult cleaning locations.
Canister vacuum: Light and powerful, canister vacuums are easy to maneuver for efficient cleaning and come with a versatile tool kit for everything from floors to upholstery to crevices.
Wide area vacuum: Wide area vacuums are designed to cut cleaning time in half by covering large areas quickly. Adjustable height and strong construction make these far more powerful than ordinary machines.
Wet/dry vacuum: Heavy duty and engineered to withstand major daily use while still issuing a high cleaning productivity rate, a commercial wet/dry vacuum can have stair-climbing wheels, lengthy hose, and complete tool kit.
Common Vacuum Repair Center Requests
You can't purchase a piece of equipment like an industrial vacuum cleaner or vacuum system without expecting some bumps along the way, whether you're tending to a building services for schools, hospitals, food service, hotels, or otherwise. These machines work hard daily and eventually will need TLC to ensure they continue to operate properly and efficiently.
Some of the most problems addressed at a vacuum repair center include the following:
Motor: A dying motor does not mean a dying vacuum. Affordable vacuum motor parts and repairs can extend the life of your vacuum and save you from a major investment in new equipment.
Belt: A broken or stuck belt emits that telltale smell of burning rubber, but this is an easily fixed problem, whether repair or replacement is necessary.
Bag: A compromised vacuum bag presents one of the easiest repairs, though often simple replacement is the best choice to minimize downtime and maintain quality cleaning.
Power Cord: Accidents happen, and power cords can get severed on the job. They can also simply wear out. Replacement is fast and easy through an experience vacuum repair center.
From bellows to bag slides, bottom plates to brush strips, there are repair or replacement options for the many parts of your industrial vacuum. Make Michigan Maintenance Supply your go-to industrial vacuum repair center. We have the parts, service, and expertise to diagnose and repair your vacuum problems, so you can minimize downtime and get back to work.
Contact Michigan Maintenance Supply to schedule a service call, inquire about Sanitaire vacuum parts, or learn more. And if it turns out your vacuum is really on its last leg, we offer a full array of industrial vacuum cleaners and vacuum systems.