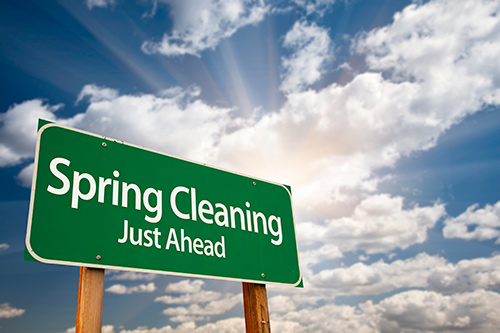 There is no wrong time to get a carpet professionally cleaned. It could be argued that each season of the year comes with good and bad factors that necessitate a thorough cleaning. Spring cleaning, however, exists for a reason. People are ready to get on with the warmer weather, especially in Michigan, and they want to do it with fresh, clean carpeting underfoot. Is your truckmount carpet cleaning equipment ready to get the job done?
Why Commercial and Residential Carpet Cleaning Is in Demand in Spring
Here are just three reasons spring is the busiest carpet cleaning season:
Customers want their home to feel fresh. Customers may clean their walls, baseboards, window treatments, and more for spring cleaning, but sometimes a place doesn't feel completely spotless until the rug has gotten its own major bath. For many, spring creates a psychological need to be out with the old and in with the new, and carpet cleaning is a big part of that feeling.
It's time to wash away the winter grunge. Michigan winters are harsh, and there is far too much time spent sealed up indoors. Fireplaces get used. Carpets get mud and snow and dirt tracked on them. Sickness abounds. A thorough carpet cleaning (and upholstery cleaning, for that matter) reinvigorates a space and makes it feel germ-free.
There is a desire to get ahead of allergy season. Allergy and asthma sufferers need special considerations when it comes to carpet cleanliness. While carpet is excellent for trapping allergens, you also want to make sure those allergens are properly and regularly removed. A professional carpet cleaning is often on the agenda for people with allergies who want to have a safe space to live and breathe without worrying about what blooms have sprung in spring.
The Benefits of Spring Jobs for Carpet Cleaning Professionals
It's not just customers who benefit from spring cleaning. Carpet cleaning professionals can take advantage of the work they receive this time of year by showing just how excellent and valuable their cleaning skills are.
Use the outdoors to your advantage. If allergies are not a concern in a household that you're cleaning, letting in the fresh, cool, spring air helps expedite carpet drying.
Introduce new cleaning products. Pet owners have it especially bad in the wintertime, with their animals shedding and potentially having accidents indoors. Innovative cleaning products, especially for pet stains and odors, show your clients that you're always on the hunt for brands that provide the kind of reliable results your customers deserve.
Break in your new truckmount. Ideally, your truckmount is in peak condition so it can efficiently and thoroughly complete the carpet cleaning jobs for which your company is hired. If you have a new van and truckmount, don't be afraid to market this benefit to your customer base – new equipment is good equipment, and your clients will appreciate being treated to such a perk.
Be Ready for Spring Carpet Cleaning
Don't skimp on preventive maintenance, service needs, or a new truckmountfor your fleet. Contact Michigan Maintenance Supply to get on the schedule for whatever you need done so you avoid any unexpected downtime in your busy spring season.