Truck Mounted Carpet Cleaning Equipment - Michigan Maintenance
Not all truck-mounted carpet cleaning equipment are created equal. The construction of each truck mount is just as important as the chemical components of the products applied by the equipment – and brand and supplier matter. Whether your area of carpet-cleaning expertise is residential or business customers, you will find that Michigan Maintenance Supply has the best solutions, service, and customer experience for your carpet cleaning enterprise.

Brands and Styles of Truck-Mounted Carpet Cleaning Equipment
MMS offers new and used entry-level truck mounts, powerful mid-range systems, and multi-wand operations from the Prochem brand. Styles include:
The capabilities of the Prochem equipment can vary depending on the model you select, but among our machines you will find those that are able to do the following:
Carpet cleaning
Upholstery cleaning
Tile cleaning
Power washing
Flood extraction
The slide-in style of equipment available operates independently of the vehicle as a self-contained unit. The benefits:
Engine is included
Fuel saving option ($30,000 over 5 years)
Lower cost maintenance
Better resale value
More options
Better performance
In addition to providing truck-mounted equipment, at MMS we stock parts and supplies for each piece of equipment. Should you encounter a difficulty or need a repair, our staff of full-time mechanics and the availability of parts and pieces minimizes downtime.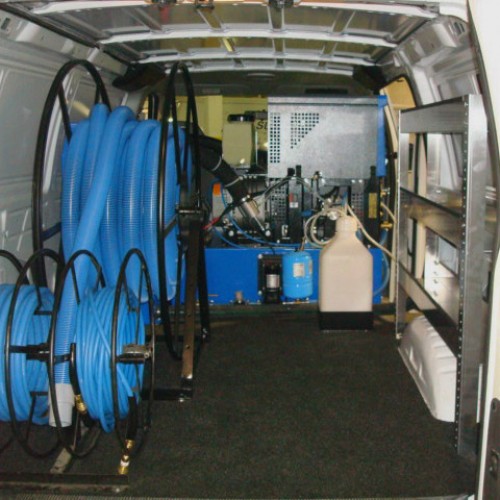 The #1 Michigan Maintenance Supply Difference
While we pride ourselves on outstanding products and customer service at Michigan Maintenance Supply, one of the elements our customers love most about our business model is the entire-van solution.
As a Prochem dealer, we offer exceptional equipment, but we also make it easy for any new or established carpet cleaning company to acquire all of the supplies needed in one purchase.
Opt to purchase an entire Prochem truck-mounted system already installed in a work van.
Thanks to Michigan Maintenance Supply's Detroit-area location, the epicenter of motor vehicle production, work trucks and vans are sourced below cost and various models and colors are available.
Finance just one piece of equipment, which includes both work van and truck-mounted systems, rather than two major purchases.
Of course, what works as a solution for some businesses is not appropriate for others. If you have pre-owned equipment and are seeking to purchase a slide-in truck-mount carpet cleaning system, that option is readily available. Leasing and purchasing financing options are offered by a number of flexible and reputable lending sources.
Benefits of Relying on Michigan Maintenance Supply
Affordability is important to Michigan Maintenance Supply. We want our customers to know that we believe in your business enterprise and want to make it possible for you to satisfy your clients with a job well done. Our Prochem truck mounts are not only the best brand of truck-mounted carpet cleaning equipment available, the many pricing options make it possible for you to secure a truck mount that is appropriate for your business needs and budget. We even offer used truck mounts as a cost-effective option.
Our customers rely on Michigan Maintenance Supply for a variety of reasons, and we are proud to offer the following benefits:
Best warranty and buyback protection
Free chemical package
Exclusive discounts
Sophisticated and effective equipment
Truck Mount Equipment Experts Ready to Serve Your Business Needs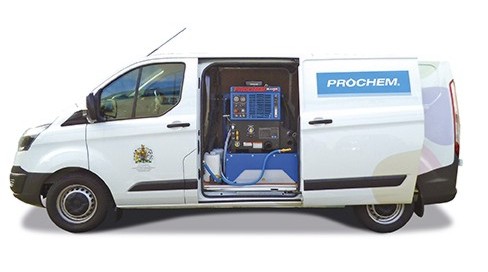 MMS is known for our exceptional customer service. Purchasing your business equipment should be painless and seamless. We are experts in truck mount carpet cleaners and supplies, with unrivaled expertise and unbeatable prices. Professional installation and testing are performed at our facility, and with on-site, full-time mechanics on our team, repair needs are handled quickly and efficiently so that you have as little downtime as possible during service calls.
There are plenty of suppliers who can provide you with truck-mounted carpet cleaning systems. The company you want to align yourself with, however, has detailed knowledge and expertise about the inner workings of truck-mounted systems and accessories.