Preventive Maintenance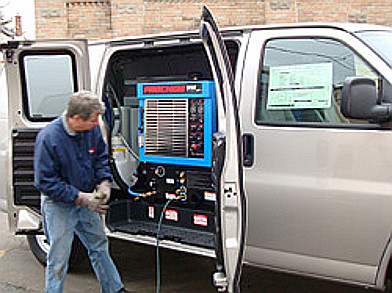 Inspection for Prochem Truckmounts
Nobody likes downtime, so don't risk downtime due to unforeseen breakdowns—you have better things to do all day than play phone tag with your customers rescheduling appointments.
Keep control of your schedule—and prevent costly and embarassing equipment breakdowns—by planning ahead for MMS preventive maintenance service and truck mounted cleaning equipment inspections. Our thorough Prochem truckmount inspection process checks all this:
Engine oil level and condition
Air cleaner
Coolant system
Fan belt
Fuel pump
Fuel hoses
Fuel hose connections
Battery fluid level
Battery terminal condition
High pressure pump oil level and condition
Pump seals
Pump valves
Waste tank filter
Vacuum blower belt
Vacuum blower coupler
Vacuum blower oil level and condition
Vacuum blower end bearing
Heating system temperature and functioning
Heating system filters
Water supply hoses
Water supply inlet strainer
Chemical delivery system
Chemical metering valve
High pressure hoses
Wand vacuum performance
Wand spray performance
To make your appointment, contact our service department at 586-757-5930.
---
There are no products to list in this category.