Benefits of truck mounted carpet cleaning equipment
As the operator of a carpet-cleaning company, your need for versatile equipment never wanes. Though your business is specialized, you also recognize the importance of being prepared to manage home- and business-cleaning requests beyond carpets. Truck-mounted carpet cleaning equipment from Michigan Maintenance Supply provides a variety of options to make your cleaning business a well-rounded and multi-functional operation.
Comprehensive Cleaning Solutions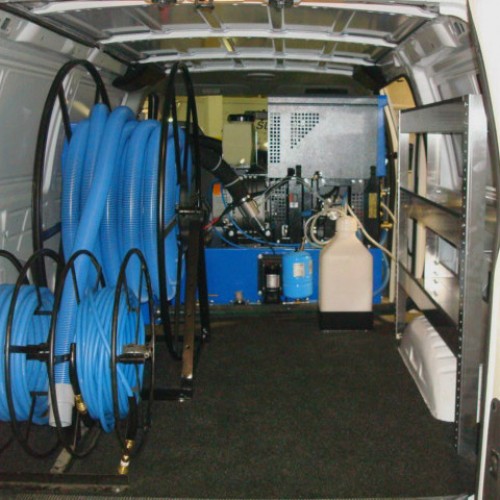 Multi-purpose truck-mount carpet cleaning equipment allows you to be flexible with your business offerings and provide greater and more complex services to your customers.
A slide-in Prochem truck mount can do the following:
Carpet cleaning
Upholstery cleaning
Tile cleaning
Power washing
Flood extractions
Duct Cleaning
From steam cleaning carpets to deep-cleaning ceramic or quarry tile, a truck-mounted system makes it possible for you to offer numerous services to one client. This attractive business strength simplifies the lives of customers and boosts your reputation as a quality, reliable, and diverse enterprise.
Reduced Operating Costs
Of course, one of the biggest benefits of truck-mounted equipment is your ability to operate a "moving" business. You don't have to lug equipment from place to place or seek out power sources. You are able to provide services in emergencies or with short notice.
Each self-contained carpet-cleaning Prochem truck mount operates independently of the vehicle in which it is installed. This entire-van solution – an offering that sets Michigan Maintenance Supply apart from our competitors – minimizes your business expenses in multiple ways. Not only is it easier to purchase a work vehicle that is already equipped with a truck-mount system, the location of MMS in the Detroit metro area means we are uniquely positioned to source work trucks and vans at cost. We save you the effort of purchasing directly from a dealer and eliminate the need to finance two pieces of equipment.
Here are just some of the benefits of a slide-in truck mount:
Engine included
Fuel savings (as much as $30,000 over 5 years)
Lower cost maintenance
Better resale value
Strong performance (more heat, more extraction)
More options
If you do already own a work vehicle, a truckmount is still an option. In addition to selling fully equipped work vehicles, we also sell and install truck mounts in customer-owned vans. For all transactions, leasing and purchasing financing options are available from a number of reputable and flexible sources.
Reliable Parts and Service
From price points to products to customer service, Michigan Maintenance Supply stands above our competitors for a great many reasons. One of the biggest benefits of purchasing a Prochem truck-mount carpet cleaning system from us is our ability to provide support and service throughout the life of your equipment.
All truck-mount systems are professionally installed and tested on-site in our facility. Should you encounter a problem or need for service, our team of full-time technicians lend their expertise to address equipment concerns quickly. We keep truck-mount cleaning equipment parts in stock for purchase and repair. And MMS also offers the best warranty and buyback protection in the area.
The purchase or lease of a sophisticated Prochem truck-mount system comes with a free chemical package. From detergents to stain removers, wax to scrubber pads, we are able to provide the necessary cleaning supplies for each piece of equipment you operate.
Align with Michigan Maintenance Supply
Truck-mounted carpet cleaning systems are our specialty. Whether you are an established business seeking to improve your service offerings, or a new business figuring out the most cost-effective and efficient ways to launch your enterprise, Michigan Maintenance Supply can help.
Purchasing or leasing a Prochem truck-mount system from MMS is an all-inclusive option that comes with not only superior products, but sales, customer service, maintenance, parts, and accessories. Begin a relationship with MMS, a company that has detailed years of knowledge about the inner workings of truck-mounted carpet cleaning systems.